Art ANEW: Robert Bullivant's "Colors of Cuba" at ANEW Test Kitchen
Mid-November's Cuban focus extends beyond the edible with a visual feast bringing the original Havana to a Little Havana-inspired pop-up.
Guests coming through the ANEW Test Kitchen doors for The Cuban Café pop-up this month may recognize chef Mandy Estrella's ropa vieja and tostones, carry-overs from her last ANEW guest chef stint in September.
Most of what visitors are seeing at 519 N. Grand is different, though, including three striking images from "Colors of Cuba," furnished by local photographer and master printer Robert Bullivant.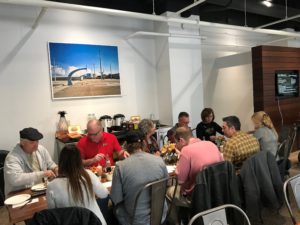 THE ART
The photos gracing ANEW's first-floor walls – "Havana Inn," and two from the "Empty Spaces" group – are part of a collection Bullivant and about a dozen other photographers captured on a week-long arts & culture exploration of Cienfuegos, Trinidad, and Havana in Summer 2015.
Intrigued by the effects of policy and time on Cuba's built environment, Bullivant turned his literal lens to structures, snapping "architectural images… captured without a vanishing point."
"I used a camera that is primarily for still-life or landscape," explains Bullivant, "a modern digital version of the type Ansel Adams used most of his career, including his work in Yosemite. My intent was to show the 50+ years of layers, detail, and colors, the texture of the paint, and the European and Soviet architectural influence."
"If you get up close to the prints, it's almost three-dimensional," the photographer continues. "That level of extraordinary detail, and the quality of printing combined with the large scale prints, give the viewer a 'visually tactile sensation' beyond what our own eyes would see if we were [actually] standing where I captured the images."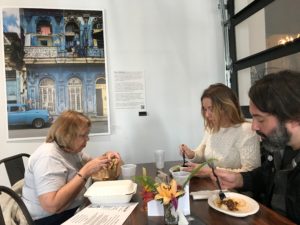 Bullivant describes preparing for "Havana Inn" to illustrate: "I set up my tripod about 40 feet away from a building where laundry is hanging on the second floor – and in the print you can actually see the details on the clothespins."
Even in recollection, his voice conveys awe. "It's a really unique experience from the viewer's perspective to be able to study these images," he says. "It's as if there are 50 different intricate images within the larger one that live in their own right."
With the prints at ANEW Test Kitchen coming in at roughly 4×5 feet each, guests have a chance to taste some of Bullivant's wonder. "At that scale, they fill more of your visual periphery than [something] smaller would. It's like being there, like standing in front of the scene with a pair of binoculars, taking it all in," the photographer says.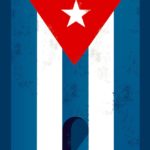 Last year, Bullivant partnered with Cuban-born St. Louis resident and illustrator Carlos Zamora on the 2016 "Havana Real" exhibit.  Zamora's illustration (R) of the Cuban flag with an arched door halfway open took a cue from Bullivant's "Havana Inn" photo (in preceding image), an aspect discovered during editing that ended up becoming a personally poignant metaphor for both artists.
THE PURPOSE
The most obvious element Bullivant's pieces will bring to ANEW this month is an artistic, thematically-relevant component patrons can enjoy as they tuck into The Cuban Café's empanadas or lechon asado.
"Robert's art brings home all the details that go into creating the space," says ANEW Director Misty Willinger, whose work for Big Brothers Big Sisters of Eastern Missouri (BBBSEMO) encompasses every aspect of guest experience from street-side door to rooftop deck. "Everything is very carefully thought out for our events; complementing them with visual storytelling is something we welcome and look forward to incorporating in the future."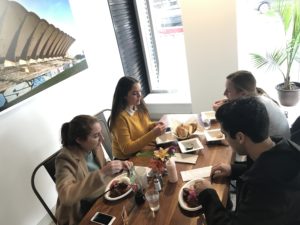 Yet there's more to the pairing than looks, or even the meticulous production of an all-senses dining affair. While Bullivant's work is gorgeous on its own, the story behind how it has come to 519 N. Grand – via friendships old and new, a special printing job, a well-timed e-subscription – transcends the aesthetic, itself a thing of beauty speaking to the unique, deeply intentional way relationships animate ANEW.
The partnership Bullivant's eponymous gallery, which happens to be a Grand Center neighbour of Big Brothers Big Sisters/ANEW, has forged with BBBSEMO represents the sort of collaboration each entity embraces to support cause and community. "Colors of Cuba," in fact, had a full exhibition in late 2015, with proceeds benefitting a St. Louis nonprofit dedicated to children with visual impairments. In similar spirit, Bullivant donating a portion of any print sales from the showing at ANEW Test Kitchen to Big Brothers Big Sisters of Eastern Missouri.
"Exhibiting work is akin to writing and having a play performed before a live audience," Robert Bullivant says. "It's something I love to do, and we've found a way to do this while benefitting charities and drawing attention to what we believe are important causes."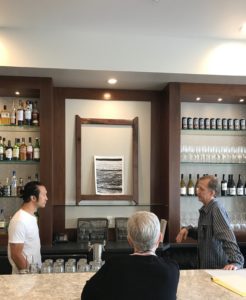 "Bringing art and nonprofits' missions together means we reach and draw in people who might not have been familiar with an organization before we partnered with them," says Bullivant. "Being able to combine our love of art and benefitting people is very important – it's very gratifying."
BBBSEMO President & CEO Rebecca (Becky) J. Hatter echoes Bullivant's sentiments, with a nod to both past and future opportunity for collaboration. "Some days you are just lucky. One of those days was when Robert and his team walked through our doors. They are professional, kind, generous, and all about community. This relationship's already amazing, and we are just getting started."
THE DETAILS
Experience Robert Bullivant's vibrant pieces up-close at the ANEW Test Kitchen during The Cuban Café pop-up's final few days (Thu 11/16 – Sat 11/18, 11am-7pm). Peek the palette – and pique your palate – by checking out @meetanew on Instagram, Facebook, and Twitter. And learn what's next* at 519 N. Grand by following ANEW on social or getting news direct to your inbox.
*Hint: House-baking, seasonal plants, cocktails, and… fiber?