Post-secondary Program for Alumni Little Brothers and Little Sisters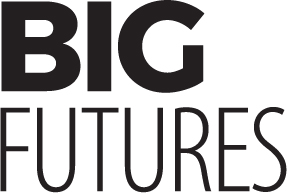 The window from ages 17 to 25 is a unique time to explore options and take steps toward what you want to do, where you want to be, who you want to become. Yet too often, young adults – especially those with fewer resources– face this transitional period with more uncertainty than excitement.
In 2014, BBBSEMO launched Big Futures to address this critical age.
Designed for young people after "graduation" from the traditional Big Brothers Big Sisters 1:1 match program, BBBSEMO's Big Futures initiative assists alumni Littles as they pursue education in college/university or trade school, enlistment in the military, and/or living wage employment. (We call them the 3Es for short.)
Big Futures staff are paired 1:1 with alumni; they also partner actively with parents, Bigs, and other mentors to provide these and other benefits to alumni Littles through age 25:
Connections: College/university contacts, military recruiters, employers
Experiences: Leadership conferences, job fairs, social and cultural activities
Opportunities: Scholarships, internships, apprenticeships
Get inspired by some of our alumni Littles' journeys! Paige | Jonathan | Vantazia | Rein
---
For details about upcoming Big Futures meet-and-greets, info sessions, and other learning/engagement events; or for general inquiries about Big Futures, contact Kate Dopuch, Chief Program Officer, at kdopuch@bbbsemo.org.
"I didn't realize how challenging college was going to be. Big Futures helped me figure out what I wanted to do. Their motivation and support kept me going. I probably wouldn't be where I am without them."
Paige, Alumni Little Sister