Love-Hope-Opportunity propels Littles and dreams
Jonathan Deery was just six when Allen became his Big Brother 16 years ago. They've seen many life changes between them: moves, marriage, children, multiple commencements. And one of the more recent life events they've celebrated together was a career milestone: Jonathan's becoming a full-time employee at Jarrell Mechanical as a pre-apprentice for Plumbers and Pipefitters Local 562 last year.
The road there hasn't been straight, or clear. Since graduating from the traditional Big Brothers Big Sisters match program at age 18, Jonathan's managed to meet challenge through opportunity. Here, Jonathan – now 22 – shares about his journey, and how Big Brother Allen and BBBSEMO have actively supported his efforts to find his own best way to own his future.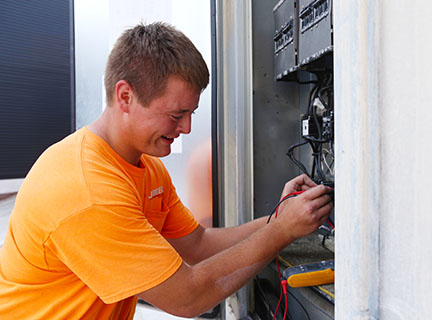 "BBBSEMO opened doors for me with the pipe-fitters union – I was part of the first Connected Scholars class my first year at Ranken Technical College..."
When I got out of high school, I went down to Southeast Missouri State University (SEMO) for liberal arts. I think for most kids, graduating, then going to a community college to knock out some general ed classes or to a four-year school is the obvious route. For me, going to SEMO was more about, "I have no idea what I'm going to do with my life, but if I do this, at least no one's going to be yelling at me. It'll make everyone else happy, and I'll figure it out from there…'
The summer after freshman year, I worked for my cousin's siding company, which introduced me to working with my hands more. My brother was working parts at United Refrigeration and going to school for air conditioning at the time. He talked to me about trying it, too. And my Big Brother Allen's a mechanical engineer – he actually engineers all the stuff I work on now. He encouraged me, gave me the insider view on what the trade was about… what I'd be doing, and things I could do with this work beyond the field. It took about three months for me to decide to go for it.
Big Brothers Big Sisters of Eastern Missouri opened doors for me with the pipe-fitters [union] – I was part of the first Connected Scholars class my first year at Ranken Technical College, and Big Futures Senior Director Tashanna Rucker had a bunch of guys from Jarrell come down to talk to me and pave the way to getting a job.
I had a kick in the butt to get where I am now. I'm the youngest of seven siblings, and saw them work hard for not really reasonable pay. I saw my life not really going anywhere, and felt if I didn't make some decisions soon, I'd be wasting the scholarship and other opportunities in front of me.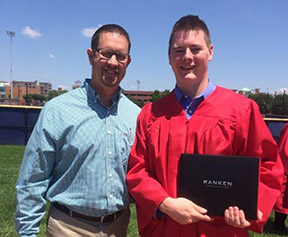 "I had a kick in the butt to get where I am now."
I'm in the union and the apprenticeship program, so I'll be an apprentice about five years before becoming a journeyman. I've still got a long ways ahead of me, but I feel great, like I've been able to accomplish a lot the past couple years. I've just got to stay on the straight path.
Designed to support Littles' transition to life after high school, Big Futures staff work directly with "alumni Littles" from age 18 through age 25. The program offers guidance and resource connections to empower young people to own their future through education in college or trade school, enlistment in the military, and/or employment at a living wage. BBBSEMO Big Futures staff partner actively with parents, Bigs, and other mentors to help with planning and serve as advocates.
For more information on how you can share opportunity with alumni Littles and Big Futures, contact Senior Director Tashanna Rucker at trucker@bbbsemo.org.