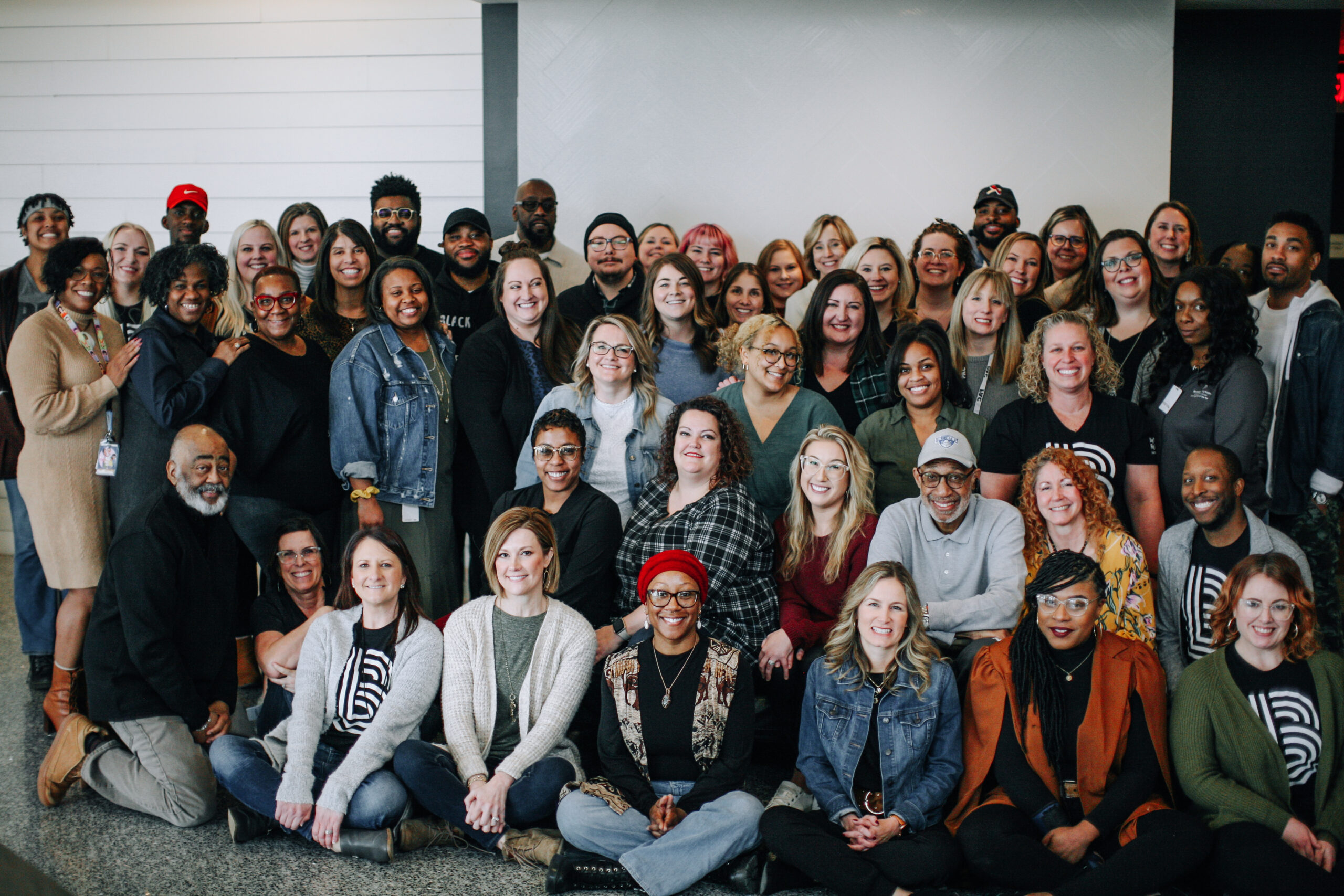 If you
want to make a difference
in the future
of young people, join our team!
Previously named Large Agency of the Year by Big Brothers Big Sisters of America, we have a lot to be proud of and FIRST on the list is our staff team.
To attract people who will enthusiastically deliver on our promise to young people and families in our community, we foster a supportive culture and a commitment to Diversity, Equity & Inclusion. Additional highlights that new employees are excited to hear about include:
You can be part of the important work we do for our entire community every day.
FLEXIBLE SCHEDULES & GENEROUS PAID TIME OFF
We know that healthy, happy employees are more effective and enjoy their roles. We have policies in place to back it up.
HYBRID OFFICE MODEL
Our hybrid model combines the best of both worlds — being together at the office and finding time for remote work each week.
COMPREHENSIVE BENEFITS
Our employee benefits take care of your present and future. We cover 100% of the employee's health and dental insurance from your first day of employment! We also offer retirement benefits and short- and long-term disability.
We're Growing...Apply Now
Cape Girardeau Positions
Sikeston/Scott Positions
PLEASE NOTE:
Due to the high volume of resumes received for open positions, we will contact you if we see a fit.
We are not taking practicum students at this time.
Our organization is filled with achievers. We "get it" and we get it done right. We love change, flexibility, hard work and having fun.
We are continually searching for those individuals whose values and philosophy match our own. We have seven core values. We focus squarely on these values and how individual staff are embracing and practicing them – because living the culture and finding win-win solutions gives us our best opportunity at producing meaningful results and advancing our mission and vision.
We rise above our individual circumstances and demonstrate the ownership necessary to achieve desired results. We live "above the line", not "below the line". We don't make excuses for our shortcomings like "I didn't know", "that's not my job", "No one told me", "I didn't understand", etc. We practice the four-step accountable process of (1) SEE IT. (2) OWN IT. (3) SOLVE IT. (4) DO IT.
We are always open to change so our organization can respond quickly to a problem or opportunity. We understand that standing still or protecting the status quo is not a viable option. We are willing to jump in and make things happen. We focus on impact, use data, quantitative and qualitative, to make decisions, as close to the issue as possible. We understand that with each change there are new opportunities to improve our services AND advance our careers.
We are capable of listening, willing to take constructive feedback and make the necessary changes to be more efficient and effective.
We approach our work with confidence giving our many audiences, internal and external, assurance that our brand and outcomes are worth the investment of their time, talent and treasure. We demonstrate our professionalism through our thoughtful work, professional appearance and clear and consistent communication. We regularly, formally and informally, communicate our successes and challenges, not only to our teams and supervisors but with others inside and outside the agency who may be of assistance. We know that EVERYONE is available to assist. We "communicate" with others in ways that can be "heard" and we understand the value of closing the loop in conversations. We also know how to apologize when necessary.
We are always determined to deliver the very best product/program/service AND reach our goals. We are hard workers. We love our work and understand that we must "study our craft" (i.e. read book and articles, attend learning opportunities provided by the agency, seek out mentors) if we are going to maintain the highest program standards and grow professionally within a high performing agency. When we are knocked down, we focus on the positive, get back up and rebuild.
We recognize that life can throw you a curve ball and some days are tougher than others. We are here to support each other. We show love and respect to our Bigs, Littles, families and all partners. We believe in teamwork– we work hard together, find time to enjoy each other and celebrate accomplishments, especially those where we have triumphed over great challenges and uncertainty.
We are thankful for ALL who give to our organization – Board of Directors, staff, Big Brothers/Big Sisters, individuals, corporations, foundations, government, in-kind donors (i.e. tickets to sporting events), holiday adopters, Anew renters, etc. We appreciate everyone's generous engagement and we find meaningful and consistent ways to show our appreciation and share new opportunities.
Big Brothers Big Sisters of Eastern Missouri not only provides competitive salaries for its employees, the agency also provides a wide assortment of benefits. These benefits help reduce employees risk should they experience health or long term medical problems.
Immediate and 100% coverage on health and dental insurance
Life insurance, short- term and long-term disability insurance following the first ninety days of employment.
401(k) – 3% match per year following first year of employment.
Mileage reimbursement and 100% of out-of-office parking for business meetings, etc.
---
Vacation days
Sick and personal days
10 paid holidays
Birthday holiday
Funeral leave
---
Annual raises based on performance and culture
Hybrid office model offers office plus work-from-home flexibility
Innovative and empowering work environment
Opportunities for advancement
Ever changing fun benefits such as potluck lunches, sporting event and concert tickets, movie matinees etc.
Administrative Volunteers
Big Brothers Big Sisters of Eastern Missouri welcomes the help of our terrific administrative volunteers in our office. Our volunteers represent all walks of life – high school and college students, executives, homemakers and retirees. We always appreciate an extra set of hands to help with a variety of tasks. This additional help enables us to maintain the high level of service we offer our volunteers, young people, families, partners and donors.
If interested in becoming a cherished volunteer, please email our HR department.