Big Brothers Big Sisters of Eastern Missouri Recognizes 2017 Mentoring Champions
Raising public awareness about mentorship is one part of participating in National Mentoring Month, which happens every January. Another aspect BBBSEMO strives to embrace — whatever the month — is regularly celebrating models of what it means to Be There for young people and families in many communities across Eastern Missouri.
Please join us in recognizing our 2017 honorees for Bigs and Partners of the year!
2017 BIG BROTHER OF THE YEAR: Leo Peoples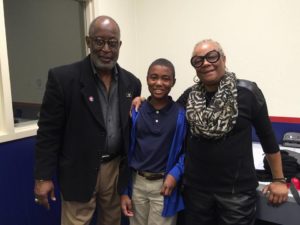 (Previous year: Darian Jenkins)
Nomination excerpt: "Leo is a reliable mentor and figure in his Little Brother's life, and AJ really treasures the advice Leo has given him over the years." — Maura, Relationship Manager
BB Leo on his Big experience: "It has really demonstrated to me that friendship is essential to the soul. AJ's a friend who's been a very close companion as we've grown though this relationship together."
2017 BIG SISTER OF THE YEAR: Lauren Bauer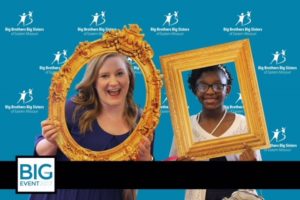 (Previous year: Susan Klippel)

Nomination excerpt: "Synmar and Lauren just kind of rock with each other… Lauren has been there for Synmar in ways I couldn't be." — Kimmie, Parent 
BS Lauren's outlook on her match: "See you guys in 20 years…!"
2017 BIG COUPLE/FAMILY OF THE YEAR: Charlie and Sydney Herbst 

(Previous year: The Schloss Family)
Nomination excerpt: "Their pure dedication to children, as well as their compassion and their empathy, has shown through their extensive history as a Big Couple to their former and their current Little Brother." — Ashley and Becky, Southern Region Executive Director and Senior Program Director
The Herbsts on asks, and BBBSEMO in Cape Girardeau: "Becky [J. Hatter] told us 'yes' in two hours; we've been telling her 'yes' for 19 years!"
2017 PARENT OF THE YEAR: Tywana Rankins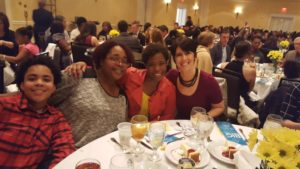 (Previous year: Dorothy Collins)
Nomination excerpt: "Tywana is a great advocate and partner for the agency who goes above and beyond what's required of them for the program." — Calen, Relationship Specialist
PG Tywana on bonding: "Kids always think, 'You're family, you're supposed to love me.' But Mary was this outsider who came in and showed my daughter, 'I love you.' So when I think of BBBSEMO and Mary, it's all about family and chosen love."
2017 CORPORATE PARTNER OF THE YEAR: Emerson Electric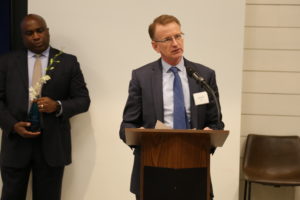 (Previous year: Edward Jones)
Dave Rabe, Emerson Vice President of Corporate Social Responsibility, on supporting BBBSEMO: "Big Brothers Big Sisters is one of the very important ways we can start bringing people together from different backgrounds. The more we can find opportunities to bring them together, start the discussion, bridge the gaps, get to know each other… that's what we need to do, and this is a very good way to do it."
2017 COMMUNITY PARTNER OF THE YEAR: ST. LOUIS UNIVERSITY (SLU)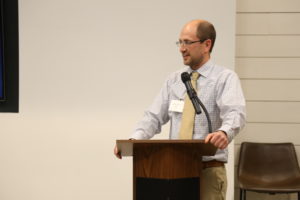 (Previous year: Southeast Missouri State University / SEMO)
Bobby Wassel, Assistant Director of SLU Center for Service and Community Engagement, on service: "[It] isn't about counting hours; it's about relationships."

2017 BOARD MEMBER OF THE YEAR: Dr. Sharonica Hardin-Bartley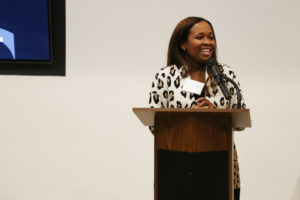 (Previous year: Bill DeWitt, III)
Dr. Hardin-Bartley on making time, and motivation: "There's a moral imperative to give back, to do acts of service…. Our children are watching: we have to be examples."
2017 STAFF MEMBER OF THE YEAR: Liz Kleiner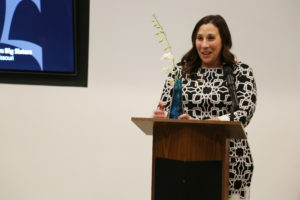 (Previous year: Kary Thompson)
Liz Kleiner on keys to support: "In my experience, when someone knows that you genuinely care about them (and not just their role in this program) and that you are there for them, it becomes very easy to connect in a meaningful way."
January may be over, but shouting-out these winning Bigs and partners will continue throughout 2018. Follow BBBSEMO on Facebook, Instagram, and Twitter to join us in honoring them all year!