BBBSEMO, Black Panther Style: Bigs and Littles show #Wakanda events speak to them
What happens when a Big with big-screen connections helps make a special Black Panther screening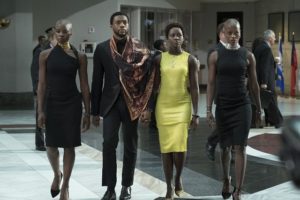 happen for Big Brothers Big Sisters? Instant excitement, overwhelming response, and the most RSVP'ed BBBSEMO match activity to date! 
It doesn't take much interwebz homework to confirm that Marvel's latest film, Black Panther, is a phenomenon. Though it's only been out three weekends, the movie — rated 97% on Rotten Tomatoes and given 5 stars by Common Sense Media — is already on track to become the superhero franchise's second highest-grossing theatrical release. 
So it's no surprise that when Big Sister Eileen, Regional Account Manager of Marcus Theatres, and BBBSEMO support staff set up a one-time exclusive Black Panther screening for the agency's matches, Bigs and Littles alike sprang at the chance to experience the movie together. (Spoiler: sentiments similar to those in the video below!)
This was amazing. @chadwickboseman surprises #BlackPanther fans while they say what the movie means to them. pic.twitter.com/ZXnfLuV83f

— Fallon Tonight (@FallonTonight) March 1, 2018
When Little Sister La'Tayvia got Big Sister Emilee's text about the screening, "I was excited! I've never seen it before and everyone's saying it's a good movie," the 14-year-old Little said. "I was thinking it would be fun, and a great movie to see."
Big Sister Emilee nodded, adding that the film's positive messaging about "embracing yourself and being who you are" made the event a wonderful way for them to get to know each other a little better after their Big Meeting — or first introduction — in late January.
An even newer match, Little Brother Tyrelle and Big Brother Akeem signed up for the screening even though they'd both watched it, separately, already.
"The timing didn't line up to see it together opening weekend," Akeem said, "so when I saw Big Brothers Big Sisters was having a screening, I thought, 'We should go see it again.'"
"The cool thing about Black Panther," he added, "is that in most superhero movies, there just aren't Black characters, especially not Black leads or Black heroes in those roles. To have that, and the primary audience of Big Brothers Big Sisters as far as Littles goes being African American in St. Louis — it not only shows you can be in these big-budget films but also do grander-than-life things."
"It's just different from other, regular superhero movies," Tyrelle, 12, agreed with Akeem. "The skin tone, a Black superhero… yeah. Everybody's talking about this movie." 
Other matches expressed similar sentiments. Little Sister Indya came with Jacquelyn, her Big Sister of 7+ years. While they've participated in past BBBSEMO match activities and watched many films together since they met in 2010, Black Panther's timeliness and empowering qualities lent the screening even greater appeal.
"Black History Month just ended," Indya noted, "and with a mostly all-Black cast… representation is really important; it'd be nice to see this movie with people who look like me. And some cultural [elements], too." 
After the screening, Little Sister Rodnesha, age 14, said she liked "everything" about it, but that Shuri, Black Panther's sister, stood out because "she makes all the [Wakandans'] stuff, and helped this man who was [going] to die."
Characters like Shuri motivated Big Sister Brianna to do this Black Panther match activity. "Its showing strong women — you never really see women being the warriors, defending the men — that was beautiful," she said. "And I wanted her to experience it."
Scroll down for more photos and thoughts from Littles and Bigs who #WakandaForever'd with BBBSEMO this month!
LB DJ, 11, on what he was most excited about seeing again: "The end."
LS Valenda, 15, on what interested her about the film: "I love seeing stuff like this… and it's something I'd like to do, to try to make a movie."
LB Jermonte, 17, on dressing for the occasion: "I knew that we were coming here, and I said, 'Do they wear dashikis in the movie? I'm probably going to wear a dashiki to the screening…!"
Got an idea for a similar free or low-cost event that engages Big Brothers Big Sisters matches around cool, fun, and enriching experiences? Contact Resource and Support Manager Madeline Sowatsky at msowatsky@bbbsemo.org.
And as always, stayed tuned for the agency's latest by following @BBBSEMO on Instagram and Twitter, and liking BBBSEMO's Facebook page!