A Big Brother = "A very good thing"
Little Brother Jackson, Parent/Guardian Janet, and Big Brother Chisom talk about what brought — and keeps — them together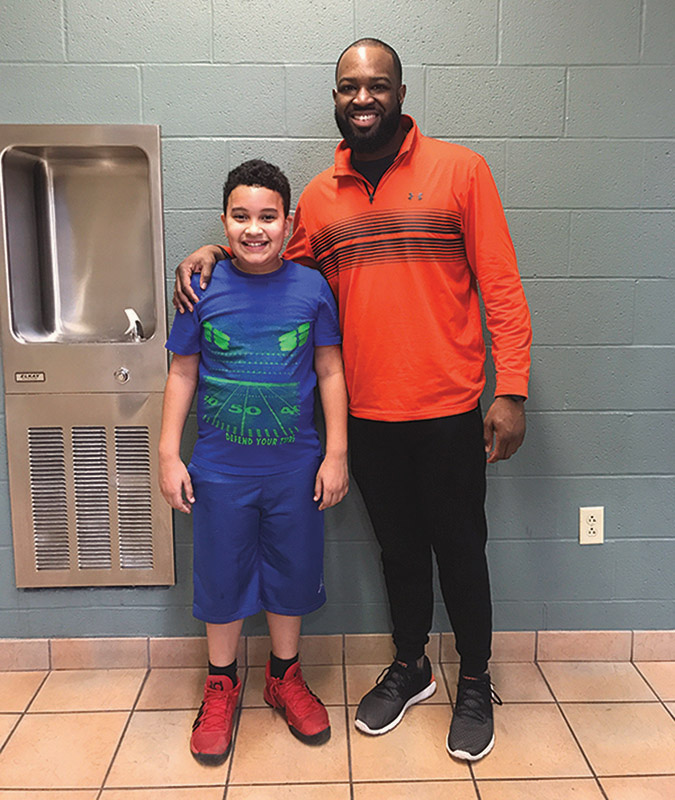 Love + hope = A fateful phone call
Little Brother Jackson is ten and a half. He wears a size 11 shoe. He loves all kinds of video games, his new favorite food is bacon-wrapped shrimp, and he's got many ("SO MANY!" he sighs) female figures around him.
Janet, Jackson's great-aunt and co-guardian, nods. "He's got lots of women in his life: cousins, aunts, great-aunts, a little sister," she says. But in mid-2016, she started feeling her nephew – a bright and talkative third-grader – needed something more. "He didn't have many male, or positive and younger African American, role models," Janet says.
She also felt Jackson, who's biracial, "needed to see someone who was more like him." This got her thinking: "How can I reach out and get him outside the family?" The mix of her nephew's personality quirks and their extended family dynamics soon got Janet on the phone. On the other side was Big Brothers Big Sisters of Eastern Missouri… and a new match.
Opportunity + hope = A new match
Big Brother Chisom also came to BBBSEMO through a female figure who saw potential. In his case, it was a former co-worker and boss, herself a Big Sister. "It was a gestational period of being asked about 3-4 times," Chisom laughs. "But she persisted because there is such a need for Big Brothers."
Pre-match, Chisom was unsure about being paired with a younger child. "I worked with 12- to 14-year olds, so I worried about how I'd engage him," says the past middle school basketball coach. But meeting Jackson tamped that fear. "Jackson's definitely wise beyond his years," says BB Chisom. "We have common music tastes, and he introduces me to things like video games and all kinds of stuff."
LB Jackson's found an outlet in his Big. "I've learned to talk to Chisom about what's going on, because he always has something relatable to what I'm going through." Hanging with BB Chisom brings some refreshment, too. "Chisom always has something that lets me relax," Jackson says. "Then he hits me with something so exciting I just get blown off my feet! And we discover new things when we're together."

Love + hope + opportunity = A promising future
In the time her nephew's been matched, Janet's hopes have so far been met. "They've made a connection, they're getting to know each other better," she says. "Jackson feels special when he gets picked up – he likes having his own private thing. It's really heartwarming to see him happy with something he can call his own."
BB Chisom smiles, describing his match with his vocal, curious Little Brother. "It's great to be with Jackson, to do stuff and be friends with this really intelligent, developing ten-year-old. He knows I'm there to talk, and be there. We're just enjoying hanging out with each other."
As for LB Jackson? When kids ask, "What's a Big Brother? Where can I get one?" – "Like it's a thing, not a person!" Jackson says, shaking his head – it's clear he knows he's got "a very good thing" going… and that there's much more to discover with Big Brother Chisom because of it.
VOLUNTEER TODAY!
4 hours per month / 1-year commitment