Sign Me Up (Again)! Big Staff at BBBSEMO
Many Big Brothers Big Sisters of Eastern Missouri staff do two interviews with us: one to join our work team, and another to volunteer. So which comes first? The job, or being a Big?
In Paul Heinemann's case, it was the latter.
"My mom was a Big Sister as a young adult," says Paul, who started volunteering just before starting his junior year at St. Louis University. Inspired by his mother's stories about bonding with her Little Sister and finding purpose through that relationship; and already passionate about working with youth, Paul felt being a Big seemed like "a really unique opportunity to make a significant impact on a kid interested in having another supportive adult in their life."
Paul, a transplant from Kansas City, MO, says his Little Brother Nate has been a great partner for exploring his new city and community outside the SLU campus bubble. Being matched also led to a job prospect he'd have missed if he wasn't a Big.

"I learned about the Enrollment Specialist opening through the Bigs Weekly newsletter," Paul says. "My experiences as a Big were very influential to deciding to actually apply because I knew first-hand the impact mentorship can have on both Bigs and Littles."
"I had also experienced how passionate, organized, and mission-driven the staff at the agency were from my interactions with them, and could see myself growing from working alongside those people," he adds.
Percy Baldwin also joined BBBSEMO's staff with a resume featuring "Volunteer" – a five-time Big, in fact, matched with his first-ever Little when he lived in L.A. While Percy's history with Big Brothers Big Sisters got started in California, he's remained committed as a mentor -- he's now matched with 10-year-old Little Brother Ryan -- in his hometown of St. Louis.
Becoming a Support team member wasn't Percy's plan, however. "After I retired last year from the VA, I was just going to come here to volunteer a couple times a week – you know, moving books around or something," he laughs. "Then they said they had a part-time job that pays, and I said, 'Okay, I'll try it out.'"
Friends on the West Coast and the Midwest frequently comment on how long Percy has stayed involved with BBBS. "They go, 'You are really still sticking with that program, aren't you? It must be good if you still hang out with it…'" Percy says. "I'm glad I met that mechanic [who was a Big] at work and started doing Big Brothers. It's been an important part of my life. I work here now, so I'm in double trouble!"
For Senior Relationship Manager Patti Watson-Soluade, working for BBBSEMO did precede Big Sister-hood as part of a Big Couple match with her husband Wale. She always knew she wanted to be a Big; and doing so with her spouse has not only meant building bonds with Little Brother Ja'Vante as part of a couple, it's also enabled each partner to develop a distinct connection with their Little.
"I don't do traditionally male things like sports," Patti says, "so Ja'Vante and I have connected a lot over cooking and doing recipes."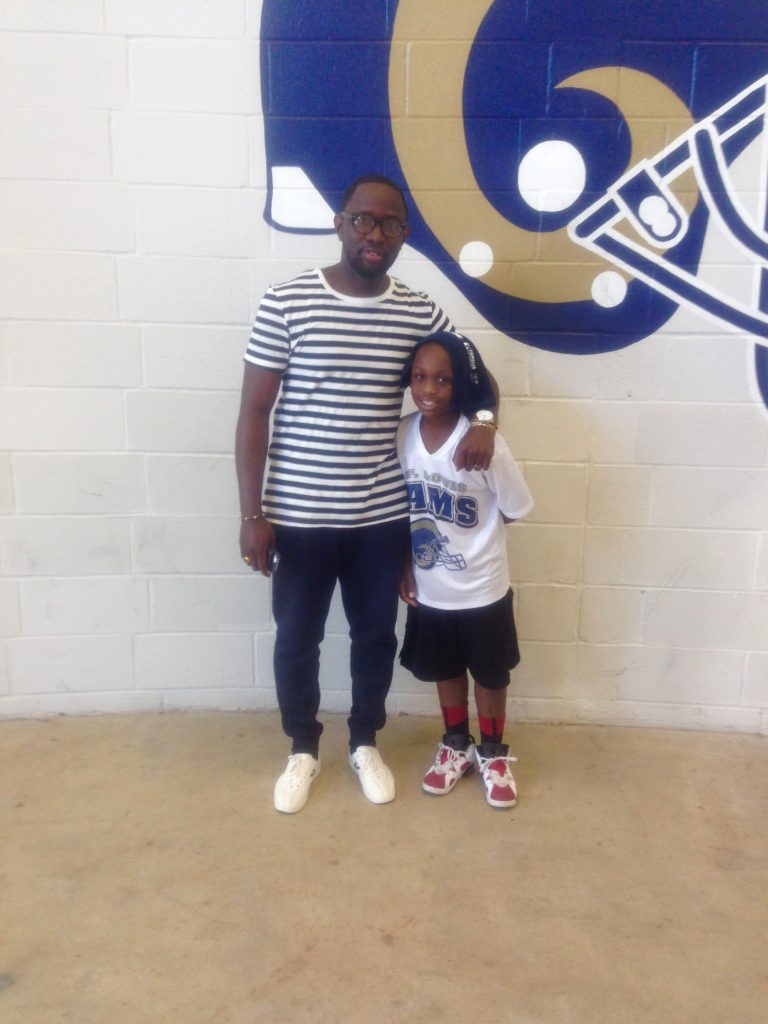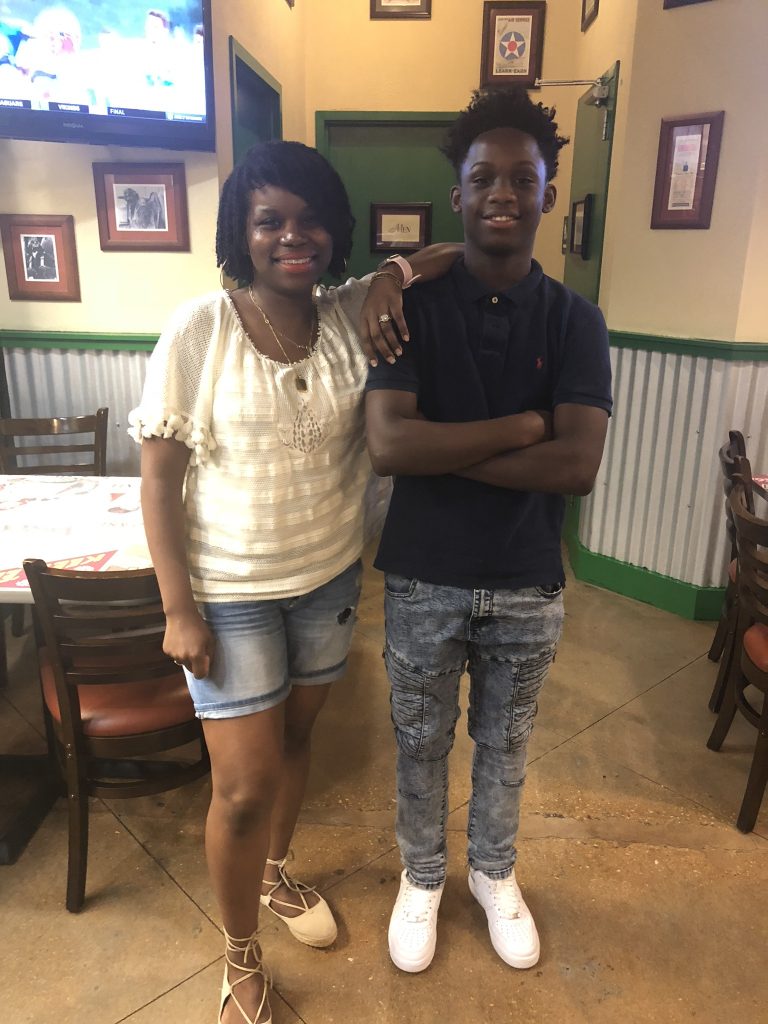 | | |
| --- | --- |
| Big Brother Wale and Little Brother Ja'Vante, early match | Big Sister Patti and (bigger!) Little Brother Ja'Vante |
"With Wale, it's very much the sports aspect, and trash-talking and making fun of each other and jone-ing is their thing. But our relationship with him as a couple is the same. He does great with both of us, he's comfortable with us both," says Patti.
The 2:1 ratio of a Big Couple/Little Brother match has worked well for the Soluades.
"Where I lag, Wale can pick up and when Wale gets busy – he travels a lot for work – I can jump in," Patti says.
"It doesn't always have to be both of us with him. But we'll say, 'Hey, let's FaceTime you so you can talk to Ja'Vante and see him,' if one of us can't be there to hang out in person."
In their seven-year match through BBBSEMO, Wale and Patti have grown as a married couple; the time they spend now with their Little Brother includes their three-year-old daughter. It's a part of their still-growing relationship with Ja'Vante they love about being a Big Couple.
"It's great that Ori can see we've established this relationship with our Little Brother, and that we're doing this volunteering together. We really care about Ja'Vante, and his well-being and his family, all together," they say.
Whether they signed on for off-clock time with a Little Brother (or a Little Sister) before or after joining our work team, these staff Bigs' stories are just three examples of what motivates so many BBBSEMO'ers in St. Louis, St. Charles, and Cape Girardeau to volunteer.
They're also a reminder that our staff is here for young people, families, and volunteers... and they're committed to being there for matches as fellow Bigs, too!
READY TO DO YOUR PART?
Become a Big Brother or Big Couple to a deserving youth waiting to become a Little Brother.
Click below to start your application!