What's It Really Like to Be a Big Couple?
Long-time Big Couple Monica and Mike Budenholzer share their experiences in this Q&A with highlights, learnings, and favorite times from their 6+ years with Little Brother Vic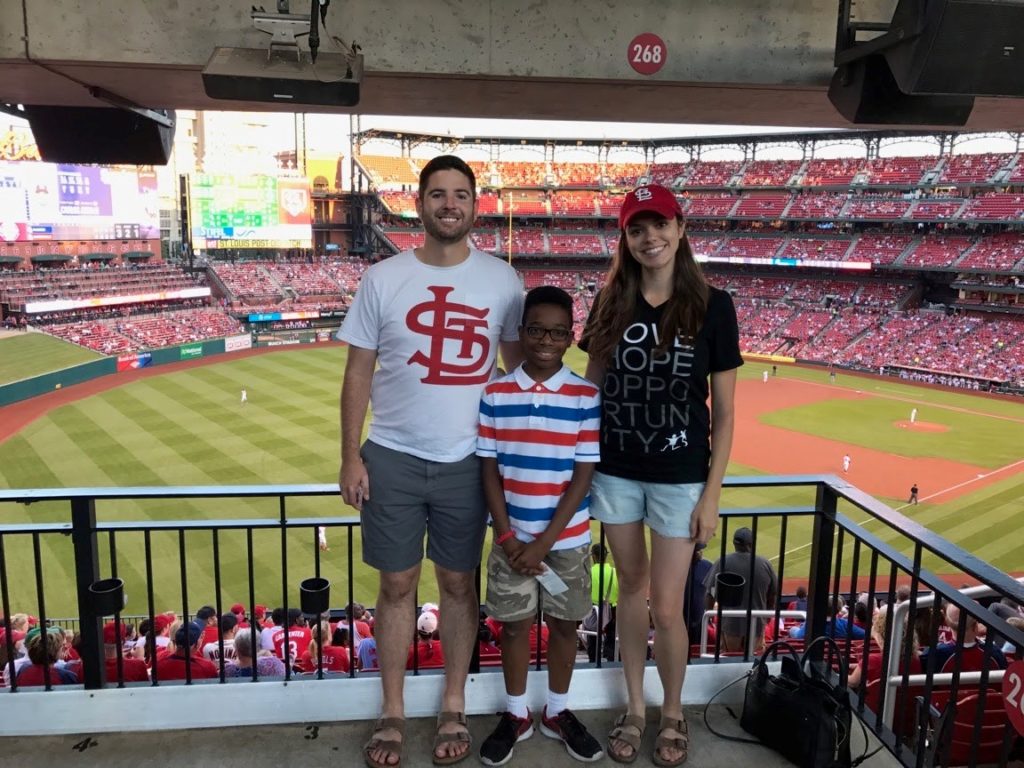 Q: What do you say to someone almost ready to hit that "Submit" on their Volunteer application?
Monica: If you're open to having one more friend in your life, hit "Submit." A match is as simple as becoming a friend to a little human, but can be as big as shaping their perspective on the world, and ultimately them shaping your perspective.
Mike: You can make a HUGE difference in someone's life. Your choice to become a Big has exponential implications. Impacting just one Little can help change our community for generations. Your decision has that much power!
Q: How'd you decide to become a Big Couple?

Monica: Mike and I wanted to get involved in a volunteer opportunity together and felt drawn to BBBSEMO. We liked that we got to help a child and have fun with them to help make a difference in their life.

Mike: I became a Big because I wanted to participate in a service organization that directly impacts my local community. While learning about BBBSEMO, it became evident that becoming a Big could help change someone's life and improve our community.

Q: Can you describe your very first meeting with your Little Brother?  

Monica: When we met Vic and his mom, Amanda, he was bursting with energy and excitement. He proudly told us he was the funniest and fastest kid in his class and eagerly told us a few jokes. We were both so happy to meet such a sweet kid.
Mike: I was extremely excited and slightly nervous! We met at HQ and got to introduce ourselves and learn some basic info about each other. It was amazing to see the joy and excitement in Vic's eyes!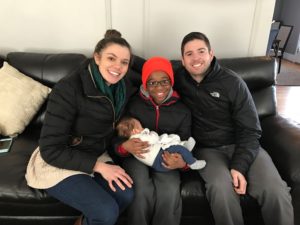 Q: How has your relationship with Vic grown?

Monica: Vic continues to have a high level of enthusiasm for things that excite him. He is a very polite kid who loves his mom and sisters and is very smart. We've evolved from being cool friends who hang out to a family who gives Vic a break from his everyday life.

Mike: When we were matched, Vic was about 8 years old. We did more parks and things in the beginning… now it's more sports and experiences like the Wheel and Crown Candy. I think Vic has grown to enjoy his time with both our kids who were born since first being matched with him. He's been an awesome sport about hanging with them.

Q: What's your match taught you about yourself? 

Monica: … that I need to relax and have fun more often. Vic helps bring the inner child out of both Mike and myself.
Mike: … that I can always learn more, especially from someone as thoughtful and smart as Vic! I've also learned I sometimes think my small problems are larger than they are, and that I should be more appreciative of what I have and enjoy the moment!!
Q: Can you share some favorite match moments/memories? 
Monica: ♥ Going swimming and getting ice cream ♥ Playing in the yard with our next-door neighbor ♥ Playing FIFA on Xbox 7 ♥ listening to Mike and Vic debate their favorite football teams ♥ Seeing the movie "Wonder" with Vic (one of the only times just the two of us hung out) ♥ Watching Vic play with our son Mason – he's so loving towards him ♥ Going to the STL Wheel with Vic and our kids ♥ Tower Grove Farmers' Market ♥ Hydro dipping shoes ♥ Baking Christmas cookies for Vic's family ♥
Mike: ♥ The car show ♥ A SLU basketball game ♥ Rock climbing ♥ Larry Hughes basketball camp ♥ Football camp at Rams' Park ♥ Crown Candy Kitchen. ♥ Taking Vic to pick out football gloves ♥ Playing soccer and football at the park ♥ Walking and playing with our dogs ♥ Cooking together ♥
Volunteer Today
Here's your shot to create memories and make an impact for life – for a Little as well as yourself. Apply to become a Big Brother, Big Sister, Big Couple or Big Family today to start that journey!
Apply Now