Coach Rekha Patterson landed in Cape to lead SEMO's women's basketball team in 2016, and it's become very clear she's a force on the court. Her Redhawks have enjoyed steady gains over the last several years, and last season took its first OVC Tournament Championship in a dozen years.
Off court, Patterson leverages her visibility, influence, and relationships to encourage those around her to serve community youth. It's an exhortation she takes to heart as a Big Sister herself and vocal advocate of BBBS in Cape Girardeau.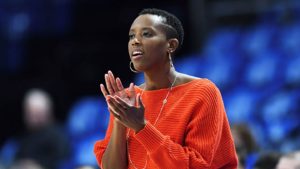 In this Q&A, Coach Patterson talks about how and why she connected with Big Brothers Big Sisters; and its role in helping her become part of a new community.
What started your involvement with BBBS in Cape?
"As a single woman without children, it had been on my heart to give back to others in a very personal way for a few years. I was attending a local community event when a BBBS staff member spoke about the opportunities and I jumped on it."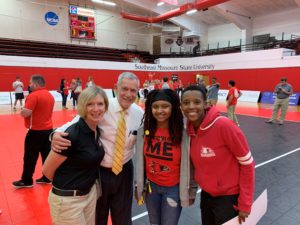 How has Big Brothers Big Sisters helped you make Cape Girardeau home?
"I feel a great responsibility as the SEMO Head Women's Basketball Coach to become entrenched in this community and I can be involved in many community service acts, but having a Little makes me feel even more connected to Cape."
How does being a Big compare with being a coach – and a professional, collegiate-level coach at that?
"Being a Big is about having a healthy relationship and being there through all walks of life, sometimes giving advice but definitely always having a listening ear. Potentially introducing my Little La'Kera to new experiences is also similar to what I do as a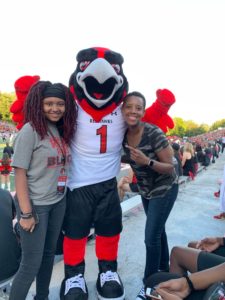 coach. What's different is that there's no competition to prepare for. And it's not my job to tell my Little what to do, which I often do as a coach."
What do you value or treasure about your relationship with your Little Sister La'Kera?
She's very creative in engineering and design, which is not a strength of mine. When she talks about some of her classes, she describes how she enjoys designing and creating things and how she does the same thing with a video game."
"I've enjoyed getting to know her, and hear and see her light up about the things she enjoys doing and learning. I'm excited for her to teach me some new skills, especially in the kitchen because she can cook and I can't.
At Big Brothers Big Sisters of Eastern Missouri, we believe every one of us can benefit from having one more person invested in our success. That's why, at the request of parents, we match 5- to 17-year-olds (Littles) with caring adult volunteers (Bigs) to walk alongside them. For many Littles, their Big is the only relationship that's all theirs—someone who can invest dedicated time to encourage them and introduce them to new possibilities and perspectives.