What Mom knew
Parent Antwonette was no newbie when she signed her son Bryant up for a Big.
She knew what to expect. Her older daughter Keniyah had been a Little Sister with BBBSEMO for about a year. In addition, Ms. Antwonette had perspective through her own sisters, who followed her lead by putting their kids in the agency's program, too. She had a firm grasp of the whole process of Family Enrollment, Pre-matching, Big Meetings, and Match Support when starting Bryant up on his Little journey.
"Boys like to do different things than girls, so for the only boy in the house with two sisters, joining BBBS gave Bryant a chance to be around other people." – Ms. Antwonette
As an attentive and engaged mom, Ms. Antwonette was keenly aware two things – somebody male, with a whole lot of energy – would be essential for her son to be a happy Little.
A welcome opportunity
When the agency offered an option that could basically quadruple the effect, it didn't take much persuasion to say yes.
"I was told there was a couple [interested in being matched together with their] three boys, twins and a boy about Bryant's age," says Ms. Antwonette. "At the time we enrolled Bryant, his father was working when our kids got out of school, so being around males his age and older was our main goal. It worked perfectly because it offered exactly what I was looking for."
♥ Big Family = 1 Big Brother and/or 1 Big Sister + their kid(s) ♥ A Big Family match provides a unique opportunity to make a difference in a Little Brother's life – and see your whole family's life change, too ♥
That "it" – a volunteer option called a Big Family – had just started as a pilot at BBBSEMO in 2015. Antwonette and Bryant decided to give it a go even though it was new. While it definitely fit what they'd both hoped for, it was also (and very importantly) about time. Given the agency's gap in male volunteers ready for matching, Mom Antwonette opted to take a chance with a Big Family. That way, her son wouldn't have to face a potentially long wait holding out for an individual Big Brother.
Soon enough, though, any worries about choosing a novel set-up disappeared. It became quickly clear the Wallaces – Big Brother Ronan and Big Sister Amanda, and their sons Tain, Finn, and Senan – were just right for Little Brother Bryant.
"I knew the Big Family was working out well because he would always come home smiling and happy. They do things together like just spending time with them at their house. He was introduced to soccer through them and really likes it. He just really enjoyed being around them," says Ms. Antwonette.
Big Family benefits
As a mother, Ms. Antwonette says she's been reassured by her son's Bigs' experience as parents, especially around keeping her current about what's happening.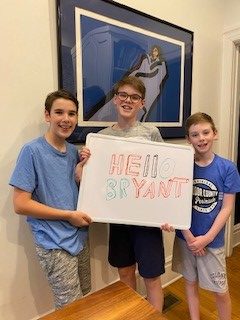 "Amanda and Ronan having kids made it easier for me to feel comfortable letting Bryant be with them. They always keep me up to date, and send pictures of all the stuff they're doing together. We have open communication and complete honesty… one time they had an issue with their home when Bryant was with them, and they called me right away."
Ms. Antwonette also values the genuine, consistent care and time each of the Wallaces puts into their relationship with her son. She notes how they've stayed connected through times of inevitable distance.
"They really care about Bryant. They always want to know how he is doing. And they're consistent. Even when Amanda had to go out of the country to teach, Ronan spent time with Bryant. With the coronavirus situation, Ronan and Amanda have video-chatted with Bryant, sent text messages, and dropped by to see him. He also plays online video games with the boys. It's been good for me because the relationship has not been lost or strained." – Ms. Antwonette
Bryant – now 10, with abundant energy and relatively few words – says his Big Family "always makes sure I'm safe" and enjoys the space they make for play and fun experiences.
"They call me sometimes just to say 'Hi' and I feel comfortable calling them, too. Ronan helps us when we need it, and sometimes plays soccer with us. And I like that Amanda lets us do fun things, like having a little picnic when we go to the park."
Bryant's favorite part of being a Little Brother comes down to simple yet meaningful stuff: "Doing good things with them, like playing hide-and-seek around the house, going places like on a scavenger hunt, and learning games like ga-ga ball."
Ms. Antwonette appreciates the way her son's interests have been encouraged through his match. She also appreciates what she's learned about Bryant along the way.
"Amanda and Ronan have had conversations with Bryant about different things he's interested in, like science. I've also learned how my son acts when I'm not around – one time, Bryant picked some flowers and gave them to Amanda as a thank-you."
"With a Big Family, there are two adults, so he's basically got a Big Brother and a Big Sister, and it's a bonus that they have kids! Bryant loves being around his friends over there."
Curious about Big Family Wallace – grown-ups and kids?
Click here for a peek into what it's been like for the Wallaces to volunteer and build, as a family, such a lively relationship with Little Brother Bryant!