---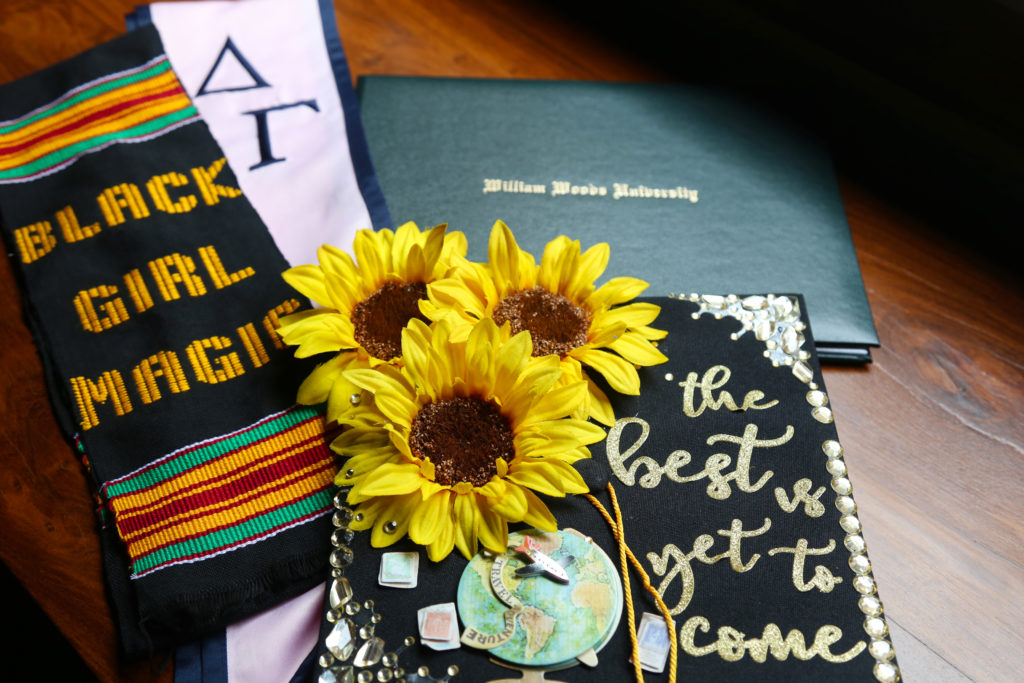 Alumni Little Sister Ashley Powell-Brooks strode the stage in May 2019 to collect her Bachelor of Social Work diploma, less than five years after starting college. Friends from as far as Kansas and Las Vegas travelled to celebrate her at William Woods University in Fulton, Missouri and in her hometown St. Louis. The silk sunflowers and tiny globe-circling plane Ashley added to her cap surround a mantra that pulled her through some exceptionally rough times during college: "The best is yet to come."
The final piece of Ashley's ensemble was her mother Keisha's gown, worn in 2006 for graduate-school commencement. Wearing it was both tribute and remembrance. Ashley almost didn't make it past freshman year when she lost her mom in 2015 to an act of domestic violence.
---
MAKING HARD CHOICES TO MAKE IT THROUGH
"I just was lost," Ashley says. "My mom was the only parent I ever had. And I was in college in a small town in Missouri where no one looked like me, trying to figure out, 'How do I get back on track? How do I function when the person who taught me everything is gone?' I wasn't motivated, I felt like no one understood…. It was probably the hardest thing I ever went through."
"My mom was the only parent I ever had. And I was in college in a small town in Missouri where no one looked like me, trying to figure out, 'How do I get back on track? How do I function when the person who taught me everything is gone?'"
"I had a one-point-something by the time I finished second semester and I'd never in my life had a GPA with a 1," Ashley says. "I almost flunked out. But I'd already come that far and realized I needed to finish school for her, for my mom."
The then-19-year-old reached out to her grandmother. She started grief counseling. And she received extra support from Big Futures' head Tashanna Stanciel. Tashanna helped Ashley clear complex school hurdles and came through with real moral support.
---
---
---
---
MAKING HISTORY AT UNIVERSITY AND BEYOND
Ashley did not flunk out. She made history, in fact, at William Woods. She was elected the first-ever Black president of her sorority, Delta Gamma, her junior year. As a senior, she also organized William Woods' first-ever campus + community suicide prevention awareness walk.
Then, after finishing undergrad in December 2018 – a testament to her resolve after losing her mom freshman year – Ashley achieved a family first the next summer: she became an international volunteer in Botswana, Africa.
"I don't know what got me on the Peace Corps, but it'd been on my mind for a long time and I'd always known I wanted to travel and do humanitarian work," Ashley says. "For a while I was stuck on the fact that I even got in! (laughs) There was that image of what we think Africa is because of what media gives us, so getting to see it first-hand… I was just so excited and ready to be blown away."
Ashley's latest achievement is being named BBBSEMO's inaugural Alumni of the Year. This accomplishment has been many years in the making: nearly seven, in fact, dating back to 2014 when she joined 40 Littles as part of BBBSEMO's original Big Futures' class.
"You [Ashley] have always shown up for the Big Brothers Big Sisters family, whether talking to younger Littles about what Big Futures is and what the future has in store for them, or sharing your journey," said Tashanna Stanciel at last month's "Evening of Joy" livestream celebration.
"Just one month into my role as Senior Director of Big Futures, you welcomed me into your life with open arms because you said, 'Representation matters.' You allowed me to walk alongside you and be there for you in more ways than one. It has truly been an honor, Ashley," Stanciel said. "We're so proud of you, the great things you are accomplishing, and the things definitely in store for you."
MAKING HER WAY AND HER FUTURE
The global pandemic cut Ashley's overseas service short last spring. But she's actively working toward her next move as she lives and works part-time in Orlando, FL.
"The intercultural exchange I had with the Motswana of Tsau helped me gain a better understanding of them, and helped promote their understanding of America through me. As a result, I discovered a new interest: teaching English. Now, I plan to obtain a TEFL certificate with the hopes of experiencing new cultural exchanges – wherever that may be!"
Congratulations, Ashley Powell-Brooks! It is our joy and privilege to honor you with an award you deserve through and through. We can't wait to see how you keep owning your future, and hope you know we'll be there right with you!
BBBSEMO's Big Futures staff work directly with "alumni Littles" from age 18 through age 25. The program offers connections to resources and experiences that support young people as they pursue education in college or trade school, enlistment in the military, and/or living wage employment. By actively partnering with parents, Bigs, and other mentors, Big Futures staff help alumni with planning and serve as advocates.
For more information on how you can share opportunity with alumni Littles and Big Futures, contact Senior Director Tashanna Stanciel (Rucker) at trucker@bbbsemo.org.