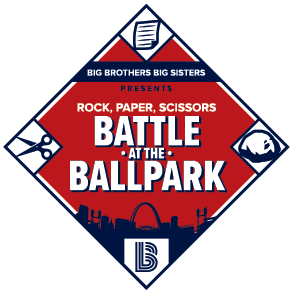 Coming June 4, 2022 at Busch Stadium
Stakes have never been this high! Join Big Brothers Big Sisters of Eastern Missouri
Battle at the Ballpark featuring Rock Paper Scissors is a $1 million fund raising campaign. The "battles" will begin in February and culminate on June 4, 2022 with a live Rock Paper Scissors throw-down: a bracket tournament played on the Busch Stadium field.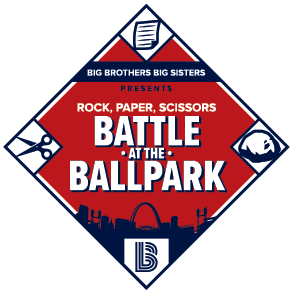 CORPORATE SPONSORSHIPS AVAILABLE!
All young people DREAM of a bright future–one that's full of OPPORTUNITIES. POSSIBILITIES. As adults it's up to us to partner with them to discover what that future holds. By focusing on meeting young people, ages 5-25, where they are, and by building developmental relationships with supportive adults and organizing essential resources, we can open doors to the future.
To get there, Big Brothers Big Sisters of Eastern Missouri (BBBSEMO) introduces Battle at the Ballpark featuring Rock Paper Scissors. The Rock Paper Scissors game, a beloved child's game, was chosen for its unique playability. It is the only game that gives every player – regardless of skill or age – an equal chance at winning. Throughout Eastern Missouri, players can challenge family, friends, co-workers, and industry competitors and their employees to enter a "battle" that is not only fun, and silly, but also plays it forward for youth futures.
"
At
Central High School
, the ABCToday network was the key driver in organizing a career day. They set up in our high school, so ALL 10
th
grade students could participate. 261 students got to learn about different career paths.
"