Allow us to introduce ourselves! We are excited to meet with more of our community as the region opens up and we look forward to getting to know everyone better. Without further ado, meet Maraba Herrera, Relationship Specialist!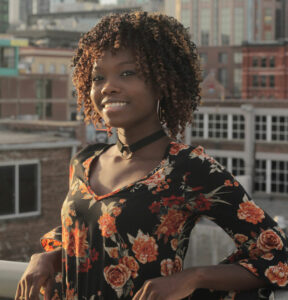 Q: What is your favorite local restaurant?
Himalayan Yeti
Q: What are a few songs that pump you up and/or inspire you?
Anything by Beyoncé or Rihanna pumps me up! My favorite Beyoncé song is "ALREADY," and my favorite Rihanna song is "Umbrella"--an oldie but goodie.
Q: How would you describe what you do/how you do your job, to a 10-year-old?
As a Relationship Specialist, I get to chat with families and volunteers to see how things are going in their match, and I offer help and support wherever I can. My main goal is to help matches build a strong, healthy, and safe relationship.
Q:  What in your work or life experiences made you think, "You know? I'd like to work at Big Brothers Big Sisters…!"
I was a Resident Advisor (RA) in college, and a big part of my job was being there for first-year students, checking in on them, advocating for their well-being to school admin, and offering them support as they transition from high school to college life. I enjoy helping people and being a resource for them, so I wanted a job that centered around supporting others. I heard wonderful things about BBBS--especially from my mom, who had been a Big Sister when she got out of college--, and I wanted to be a part of the organization.
Q: Can you give an example of an interaction or experience you've had that's made you feel your work is making a difference?
I recently supported a Little Sister and her Big Sister as they navigated the death of a very important person in Little Sister's life. My role as a Relationship Specialist enabled me to check in on Little Sister, offer resources, and be there for Big Sister as she supported her Little. In such an unfortunate situation, I can only hope that my actions offered some comfort to Little Sister and Big Sister.
Q: What's your fondest or most fun memory of being a new staff member at BBBSEMO?
I enjoyed going to Busch Stadium with other staff members over the summer in preparation for Battle at the Ballpark. I started working at BBBS during the pandemic and had not had a chance to meet many of the other staff members in-person. Getting to meet them and be a part of an agency event was super fun!
---