Allow us to introduce ourselves! We are excited to meet with more of our community as the region opens up and look forward to getting to know everyone better. Without further ado, meet Tracy Gomillion, Child & Family Enrollment Manager!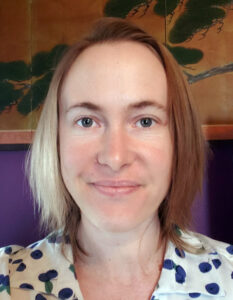 Q: What's your favorite local restaurant?
Dos Reyes
Q: What are a few songs that pump you up and/or inspire you?
Ennio Morricone – Theme from The Good, The Bad, and The Ugly
Devo – No Place Like Home
Buzzcocks – Harmony in My Head
Ain't No Road Too Long – Waylon Jennings feat. Big Bird
Q: How would you describe what you do/how you do your job, to a 10-year-old?
I get to know new families, parents/caregivers, and youth who are enrolling at BBBSEMO. We talk about what is important to them and what they hope to achieve through a mentoring relationship. Then I share these details with a team who works to find the best possible mentor for each youth.
Q: What in your work or life experiences made you think, "You know? I'd like to work at Big Brothers Big Sisters…!"
As a youth I had several amazing informal mentors over the years. It was these caring and supportive adults who helped me see my own potential. The opportunity to assist youth in finding the same type of meaningful relationship with a supportive adult is an absolute joy and privilege.
Q: Can you give an example of an interaction or experience you've had that's made you feel your work is making a difference?
I savor the moments I share with parents/caregivers and youth when we connect and recognize that we are all working toward the same goal: providing a great experience for a youth to form a new and meaningful relationship.
Q: What's your fondest or most fun memory of being a new staff member at BBBSEMO?
There are many, but I am forever grateful to my colleague Jasmine who started at BBBSEMO at the same time in the same role. She was and is an excellent thought partner and solution finder in hard to navigate moments. Her dedication and ambition have been contagious. Thanks, Jasmine!
---